The 9th All Kumano Festa (Kumano City, Mie Prefecture)

title : The 9th All Kumano Festa
venue :  : JR Kumanosi Plaza(809-3 Idocho, Kumano City, Mie Prefecture)
Date : 日時:Sunday, May 28, 2023
10:00-15:00
This time, Kumano is the Kumano Festa in Kumano City, Mie Prefecture.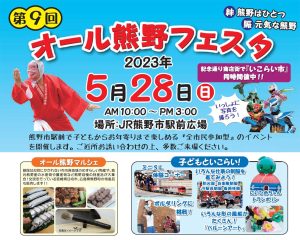 Bonds: Kumano is One
Lively: Cheerful Kumano
It makes me think of my hometown, Kumano Town, Aki District, Hiroshima Prefecture.
This time, Kumano Town and Kumano City are participating in collaboration.
On the day of the event, staff who love brushes will be at the booth.
I would like you to see the real Kumano brush.
Please come and see us.
event_20230528